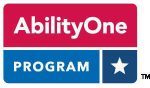 The Ability One Program is the largest source of employment for people who have significant disabilities throughout the United States. The AbilityOne Program provides high quality job opportunities for people with disabilities who face significant barriers to employment and who would otherwise rely on public benefit programs. By employing people who are blind or who have other significant disabilities, the AbilityOne Program is able to increase independence and self-esteem by helping these individuals enjoy full participation in their community and market their AbilityOne skills into other public and private sector jobs.
TCH has developed and operated projects under this program for over 23 years by providing quality services at a fair market price to the Federal Government. Currently, TCH employs over 150 individuals with a significant disability at four military sites in Arizona and one naval training base in California as well as supporting the Western Area Power Administration in Phoenix.
TCH's AbilityOne program is committed to excellence and exceptional customer service in every area of performance.
The services provided are varied, but consistently meet the high quality standards required by the Federal government. TCH provides award-winning food service operations at the dining hall and flight kitchen at Davis Monthan Air Force Base, base wide custodial and grounds maintenance at Yuma Marine Corps Air Station, Luke Air Force Base, and Total Facility Management Services at Ft. Huachuca.  We provide custodial and grounds services at the and at the Western Area Power Administration.

TCH's AbilityOne custodial services have been certified by ISSA as CIMS-Green Building with Honors.  This means a third party has determined that TCH's custodial management complies with the Cleaning Industry Management Standards for Green Cleaning, and has achieved a high score.  CIMS certification reflects the high quality of TCH's training, management and dedication to serving our customers' needs.
For more information please call Yvette Nellans at 520-850-1639.