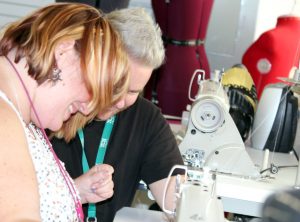 GSE provides long-term support for individuals working in an on-site supervised environment with a support ratio of up to 1:6. Qualified job coaches work closely with individuals for employment success. (Transportation Available)
ISE provides job assistance for individuals that obtain independent employment. An Employment Support Aide (ESA) provides ongoing one-to-one support for job retention.
TTE is a specialized unpaid training program designed to provide the necessary skills for competitive employment. The class is a program that lasts up to one year with a student-teacher ratio of 1:4. (Transportation Available)
Pre-Employment Training Services (PreETS)
PreETS is a series of 5 workshops designed to prepare high school students for transition prior to graduation.  The workshops are held after school for students ages (14-22) with one or more disabilities who are enrolled in secondary, postsecondary or other recognized education programs, including vocational rehabilitation.  The following workshops are offered at a minimum of one training per month (Job Exploration Counseling, Work-Based Learning Experience, Counseling on Post-Secondary Education, Workplace Readiness Skills Training to develop social and independent living skills, and Instruction on Self-Advocacy.
Disability Related Employment Services/Work Adjustment Training
This program caters to individuals who wish to gain or maintain employment.  Working side-by-side with an Employment Specialist or Vocational Coach, the individual receives support in job readiness, job development, job placement, and job retention.  Services can include supported employment, group supported employment, and post-employment assistance.
Work adjustment training services are utilized to provide extensive preparation for employment by teaching core work readiness/employability skills necessary for obtaining and maintaining employment as well as successful work behaviors and performance.  Short-term work trial experiences take place in a real work environment that can be facility based or community based, paid or unpaid.
Provide diverse work sites for individuals with disabilities to experience professional relationships within an employment setting.
Advocate for individuals with disabilities to obtain meaningful and sustainable competitive employment.
Create awareness through community and business partnerships that foster competitive employment opportunities for individuals with disabilities.
Develop, expand and maintain relationships with local and corporate businesses.
Assessments and Interest tests
Interview strategies
Resume building and updating
Job searching and networking
Preparing for and completing applications
Provide guidance and direction towards employment goals
Person centered employment plans
Regular and consistent employment readiness sessions
Job site support
Liaison between employers and members
Customized employment support available up to a year after a member is hired
Regular check-ins and reviews with the team
Provide training and education to support employers
A desire to be employed
Working towards independence
Ability to be safe to self and others
Funded through DES/DDD (Division of Developmental Disabilities), Vocational Rehabilitation, Ticket to Work, or private pay
For more information on our Job Training Program, please call TCH Employment Services at (480) 730-4126.