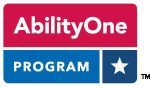 The AbilityOne Program is the largest source of employment for people who have significant disabilities in the United States. The AbilityOne Program provides high quality job opportunities for people with disabilities who face significant barriers to employment and who would otherwise rely on public benefit programs. By employing people who have significant disabilities, the AbilityOne Program is able to increase independence and self-esteem by helping these individuals enjoy full participation in their community and market the employment skill sets developed through AbilityOne into other public and private sector jobs.
TCH has successfully developed and operated numerous projects under this program for the last two and a half decades.   At any given time, TCH employs anywhere from 130 to 200 individuals with disabilities at four military sites in Arizona, a naval training base in California and one Western Area Power Administration in Phoenix.
TCH's AbilityOne program is committed to and has achieved excellence and exceptional customer service in every area of performance.  TCH provides award-winning food service operations at the dining hall and flight kitchen at Davis Monthan Air Force Base, base wide custodial and grounds maintenance at Yuma Marine Corps Air Station, food service and base wide custodial at Luke Air Force Base, and Total Facility Management Services at Ft. Huachuca.  We provide custodial and grounds services at the and at http://huachuca-www.army.mil/the Western Area Power Administration.